December

S

M
T
W
T
F

S

1

2

3

4

5

6

7

8

9

10

11

12

13

14

15

16

17

18

19

20

21

22

23

24

25

26

27

28

29

30

31
Who's Online Now
0 members (), 153 guests, and 4 robots.
Key:
Admin
,
Global Mod
,
Mod
Forum Statistics
Most Online
695


Nov 17th, 2023
DoubleGun BBS @ doublegunshop.com
Re: Morphy's Auction
Owenjj3
12/09/23
04:02 AM
I'll be honest, I have not been following Morphy's lately. Since the Julia's merger I have seen a decline in the quality of English gun offerings and unreasonably high prices compared to auctions in England. I checked some of the results of this weeks' auction and was surprised at the quality and that many prices achieved were reasonable.
3
127
DIY Gunsmithing @ doublegunshop.com
Re: Heat bluing
Cold1
12/09/23
02:27 AM
The method that works for me for torch bluing small screws is to use a piece of thin, no thicker than .125, brass, drill holes in the brass stock for the screws to pass through, then heat the brass with the torch. The heat goes through the brass to the screws and the color change happens slower so easier to control. When the desired colored is reached just dip into water to stop the change.

For larger screws I have a small can of chips from the lathe and lay the screws on the chips and heat the can from the bottom.
23
2,809
DoubleGun BBS @ doublegunshop.com
Re: Never forget
Stanton Hillis
12/09/23
12:41 AM
Originally Posted by gil russell
Back when men were men.........
Do we have enough men today who would take up the fight to defend freedom? I wonder. I do see a bit of a resurgence in patriotism, post kneeling for the anthem. I saw a T-shirt for sale recently that read "If trouble must come, let it come in my time, that my children might live in peace." That reflected my feelings perfectly.
I am cautiously optimistic, but then again, that is how I am wired. I am about as far removed from pessimism as one can be.
18
458
DoubleGun BBS @ doublegunshop.com
Re: Never forget
Dave in Maine
12/09/23
12:21 AM
One of the members at my gun club would show up to shoot trap wearing one of those ball caps you see on veterans. His said "Ford Island".
He was a j.g., PBY pilot. Was still mad at the Japanese for wrecking his plane. He went on to fly a Cat in the Solomons, then instruct and made a career in one PatWing after another.
He averaged 18/25 at trap until he stopped. Aged 94, his new girlfriend decided he liked bowling more than trap. He passed a couple years ago. Still missed.
18
458
DoubleGun BBS @ doublegunshop.com
Re: bill graham
John Roberts
12/09/23
12:05 AM
Originally Posted by Bill Graham
DelGrego is often cited as a producer of authentic Parker colors, yet they look like cyanide colors sometimes, which I don't think Parker's had.
Agree wholeheartedly. A DelGrego refinished Parker can be spotted at 50 ft.
JR
28
971
DoubleGun BBS @ doublegunshop.com
Re: OT, Bourbon or Scotch
DropLockBob
12/09/23
12:03 AM
Wild Turkey 101 == best value in bourbon, in my ever so humble opinion. Had a finger of Pappy Van Winkle a little while back, fabulous stuff. Pretty hard to come by here.

Heard the angel's envy was good, a couple of ladies at a recent party were ordering it in old fashioned's. I was sipping Glenmorangie at the time, and wondering if that was a good use for fine whiskey. I kept my thoughts to myself.
81
2,305
DoubleGun BBS @ doublegunshop.com
Re: OT, Bourbon or Scotch
John Roberts
12/08/23
11:47 PM
I've settled in with Wild Turkey 101 as my everyday bourbon. A handle is +/- $45 here. There are many that have been mentioned here that I really like, but the smoke and earth of 101 is good to me. I'm going to try some Angel's Envy soon just because. The best bourbon I've ever had was Pappy Van Winkle 20 y.o. Fantastic. William Larue Weller is a close second. Stan and I be simpatico on Scotch, a hard no thank ye.
JR
81
2,305
DoubleGun BBS @ doublegunshop.com
Re: bill graham
Stanton Hillis
12/08/23
11:34 PM
Originally Posted by Cold1
I met Bill through a local internet forum and followed his work through that forum for a few years. When it came time to have my 1874 Parker underlifter restored i asked Bill to do the work. You had to get the barrels in the light just right to even tell that they were damascus, there was no CCH left, the wood was almost black and the grain was very hard to see. The barrels were pitted and dented too. What Bill returned to me is a work of art. The barrels are gorgeous with the pattern in perfect contrast, no signs of pitting or dents. The CCH is wonderfully done and the colors range from vibrant blues to subtle straws. The wood is like new where the grain can be seen and appreciated and finished in a nice hand rubbed glossy finish like I wanted.

One of Bills best qualities is that he freely shares his knowledge. I have experienced this in person and also observing the number of people that came to him during the past few Southern SXS shows.

When I have another gun that needs to be restored, it will be Bill doing the work.
Without pics, it didn't happen Cold1.
28
971
DoubleGun BBS @ doublegunshop.com
Re: OT, Bourbon or Scotch
Fudd
12/08/23
11:23 PM
A couple of years ago at my summer weekend hangout in ruffed grouse and spruce grouse country, the survivors at end of season. Some for mixing, most for sipping. The couple on the Ieft, I won't ever buy again. Glenfiddich 12's gotten too leathery in the past few years, and The Singleton, well, it just didn't do it. But the others... Yes.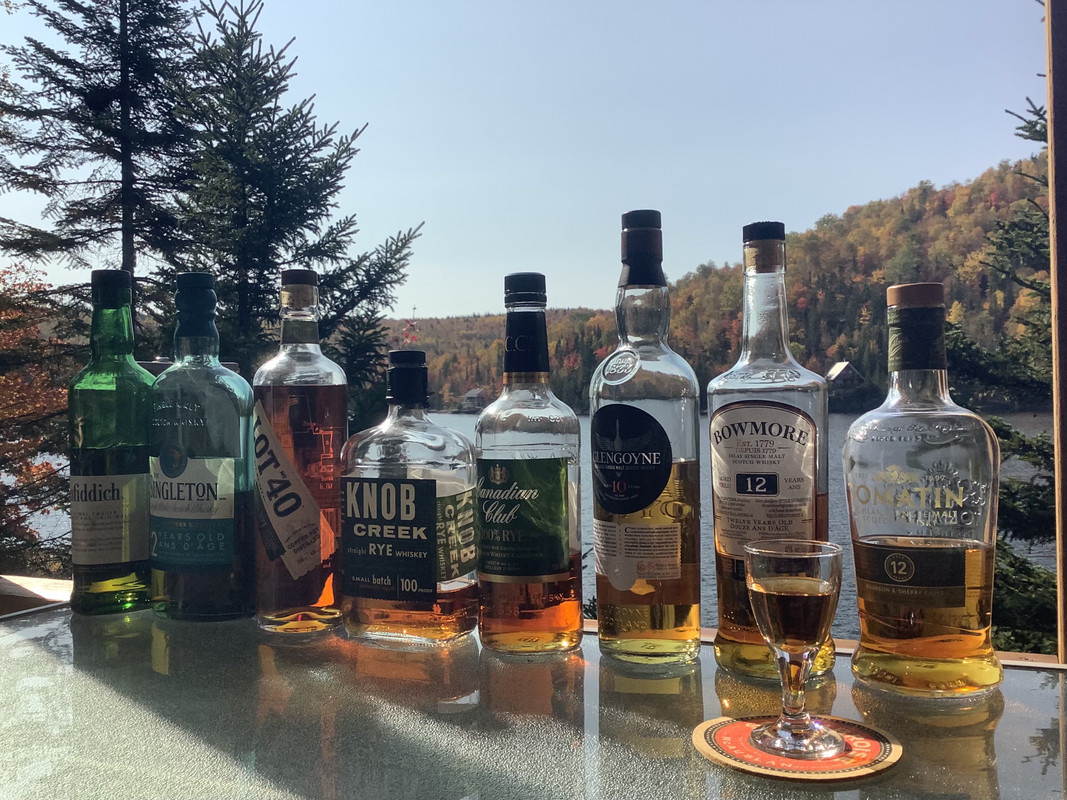 81
2,305
DoubleGun BBS @ doublegunshop.com
Re: Gamebore Regal 12 ga 2.5 in shells
PALUNC
12/08/23
11:17 PM
I purchased some of the Gamebore EVO 2 1/2" shells last summer. 1220 FPS, they were pretty "HOT" to say the least. In fact I had to give up shooting them that day because the pressure was so much I couldn't open the gun after shooting the first shot at each station.
They were felt wads, not sure if that had any effect on the way they performed.
Shot one box, sold the other nine boxes.
5
379
DoubleGun BBS @ doublegunshop.com
Morphy's Auction
dukxdog
12/08/23
10:24 PM
Does anyone know when they invoice you after an auction?

About how many days before receiving an email with invoice or what is the procedure?

Or do I contact them by phone or what?

I would have thought a notification would have been sent soon after the winning bids.

I had never bid on any auction guns before but won a couple from the Dec 6th sale.

Thanks for any information.
3
127
| | | | | | | | |
| --- | --- | --- | --- | --- | --- | --- | --- |
| Page 1 of 61 | 1 | 2 | 3 | … | 60 | 61 | |