October

S

M
T
W
T
F

S

1

2

3

4

5

6

7

8

9

10

11

12

13

14

15

16

17

18

19

20

21

22

23

24

25

26

27

28

29

30

31
Forum Statistics
Most Online
462


Aug 5th, 2016
DoubleGun BBS @ doublegunshop.com
Re: 20 gauge home defense shotgun
Stanton Hillis
10/20/21
01:59 AM
Originally Posted by mc
Joe it's 00 buck
Originally Posted by lonesome roads
Originally Posted by HomelessjOe
Ain't that what I said without a Stanley Sermon.
One would surmise there is still a trOll following me around. Think I'll call heem the leetle blue wheestler.
Originally Posted by lonesome roads
Soy un perdedor.
Snapped out of the denial syndrome, I see.
El primer paso en el camino hacia la recuperación.
22
402
DoubleGun BBS @ doublegunshop.com
Re: Replacing Extractor Stop Screw/German Dbl.
gil russell
10/19/21
11:21 PM
Thanks so much for the replies. I think I got lucky; I didn't have access to a longer center drill and didn't want to wait days or longer to get one. I was able to get an abrasive sphere into the slot after some work with a small file. That helped me figure out where the center of the hole/screw needed to be. And then I SLOWLY drilled it out using progressively larger drills. So I have it set up for a #4-40 (#48 drill). I think the original one may have been a bit larger (obviously metric) and I may end up using a #5. Thanks again for the help. Gil
3
91
Double Rifles, Paradox Guns & Gauge Rifles @ doublegunshop.com
Re: The Under Deer
Parabola
10/19/21
09:13 PM
I had a German made ( inter war, probably by Merkel) Rodda double side by side BLNE which had been later fitted with a low power Khales scope.

It shot well, both barrels, with RWS and Seller and Belliot 196 grain 8x57 JR factory loads and the barrels shot sufficiently close together for stalking purposes.

Some of the RWS was Boxer primed, and some earlier but non-corrosive was Berdan primed.

I realised when comparing relative Right and Left points of impact that if I loaded RWS Berdan in the Left barrel and Boxer in the Right that the groups should exactly superimpose.

I tried that, and it worked, producing the best R&L 6 shot groups at 100 yards I have shot with a Double, which would have been more that respectable from a bolt action stalking rifle.

The primers were different colours, so it was easy to keep track, and I kept them at opposite ends of my ammo pouch. Had I got muddled they would still have shot sufficiently close for all practical purposes.

Using that system I did get a "right and left" ( all right they weren't both " dead in the air" at the same moment- I wouldn't shoot the second until I was sure the first one was down) at Roe deer at over 200 yards.

I shouldn't have sold it!
1
23
Classic & Custom Single Barreled Sporting Rifles @ doublegunshop.com
Re: Two John Dubiel Winchester Model 52's
btbell
10/19/21
04:04 PM
UPDATE:
The Texas medal on Pope's Win 52:
The medal was made by V.H. Blackinton & Co., Attleboro MA. The die for the medal was made in 1938, so this medal, likely awarded to Pope for winning the 1938 Texas State Rifle Association Small Bore Grand Aggregate (state championship), was among the first made. The medal is gold plated brass, and the die continued to be used for TSRA medals until at least roughly 1980.
Here's another example from 1962: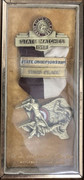 Note that Dubiel had already passed away, so another person inset the medal into the rifle stock.
Eric Johnson stocks:
A poster in another forum talked with Eric Johnson's son Carl about EJ's stocks:
The stocks he made, as I'm told, were not particularly pretty. Workmanship was good, but they weren't pretty. In fact, when I told Carl I had a rifle that I thought his dad made everything on he chuckled and said, "you know, the stock is just a handle for the gun", he made it clear that his dad didn't really like stock work as much as metal work.
https://www.rimfirecentral.com/forums/showthread.php?t=1136017
3
418
DoubleGun BBS @ doublegunshop.com
Re: Did London make boxlock rifles & guns?
Argo44
10/19/21
05:36 AM
I guess I'm just getting old(er) but re-reading the above line is upsetting:'' I posted this about the first existing Reilly Boxlock - mid 1880:
-- SN
22482
(1880): The first surviving Reilly box-lock is SN
22482
(1880)
How in the heck does anybody know that Reilly
22482
is 1880? Except for 4000 hours of research? (Or we could rely on what some gunsmith in Uk heard when he started working as a 14 year old apprentice in 1950).
64
2,060
DoubleGun BBS @ doublegunshop.com
Re: Lever to the right
Joe Wood
10/18/21
08:02 PM
In my experience, the only guns that have an advantage for the lever to be slightly to the right are those that are built to take up wear and slowly move to the left as wear occurs. Tamid is correct that Most English guns center the lever on day one. Parkers, Syracuse Lefevers, LC Smiths, and similar guns were made with variously designed angled lockup's that put the lever slightly to the right, maybe 1/16" or 1/8", no more. The only time I've seen a lever an inch to the right occurred when I had trash between the water table and the flats of the barrel and prevented the action closing.
4
380
DoubleGun BBS @ doublegunshop.com
Re: Gunbroker website
keith
10/18/21
07:52 PM
I have not had that particular problem. I was going to advise you to take a look at your Watchlist task bar, and check the second box. If it is set to "Active" instead of "ended" or "All", you will not see any items you were watching for auctions that may have ended.

I looked at my past Gunbroker Support requests, and saw that there was a time I could not access my Watchlist at all. Logging out and then logging back in fixed it. And after their last so-called upgrade, I can no longer user "New Since Last Visit" as my default search function. Most items that I already saw on my previous visit still come up. The other problem I have with the last so-called upgrade is that the Search criteria got much broader. For example, if I search for "Double Rifle", I now get nearly 4500 results, and the vast majority have absolutely nothing to do with Double Rifles. It used to work much better, but apparently they think that people will sift through 186 pages of crap to find a couple dozen double rifles.
8
344
DoubleGun BBS @ doublegunshop.com
Re: Assistance with Proof marks
Drew Hause
10/17/21
12:51 PM
The CIP site confirms that 850 BAR = 12,328 PSI by crushers (LUP) is actually 960 BAR = 13,924 PSI by transducers (
13% higher
), and adds MPa to the confusion
"These cartridges, if they are to be fired from standard proof shotguns (ie those proved to 960 bar [13,924 psi transducer] or, previously, 850 bar [crusher]), or magnum proof shotguns (ie those proved to 1370 bar [19,870 psi transducer] or, previously, 1200 bar [crusher]) must not exceed the maximum admissible service pressure of 74 MPa (new units "megapascals", in place of the old 740 bar) specified by the CIP and measured by means of a piezo-electric transducer."
9
390
DoubleGun BBS @ doublegunshop.com
Re: Old French 16 gauge double.
Ted Schefelbein
10/17/21
02:15 AM
Well, your files were way too big, or, corrupt, and I only took the time to manipulate this one. But, it will get us started:
This action was used all over France and Belgium for probably 100+ years. It was sold, in the white, as barreled actions to gunmakers all over France and Belgium. I have never figured out exactly who produced it, but, it is common as empty beer cans, and used for up to about mid grade continental guns. Very rarely, it is fitted with ejectors. I have never seen this action with a single trigger, but, I would imagine they are out there. Your gun is not rare, or, terribly valuable, except as a family heirloom, perhaps, but, these are typically wonderful hunting implements. Watch for short chambers and tight bores and chokes. It is probably time for a good gunsmith to strip, clean, and lubricate the old gun, unless you don't plan on using it. That, would be a shame, as it appears to be a great little bird gun, from what I can see. Your pictures weren't really clear enough for me to see the proof marks, and describe to you what they are telling us. A better photo of the action flats would help. Crown over PT is indicative of proof with power T, post 1900, and is a stout level of proof indeed. St. Etienne was where most French guns were proofed.
Best of luck with it. If you have any specific questions, don't hesitate to ask.
Best,
Ted
2
217
| | | | | | | | | |
| --- | --- | --- | --- | --- | --- | --- | --- | --- |
| Page 1 of 7 | 1 | 2 | 3 | 4 | 5 | 6 | 7 | |