December

S

M
T
W
T
F

S

1

2

3

4

5

6

7

8

9

10

11

12

13

14

15

16

17

18

19

20

21

22

23

24

25

26

27

28

29

30

31
Forum Statistics
Most Online
695


Nov 17th, 2023
DoubleGun BBS @ doublegunshop.com
looking 4 pics of cased set of Gibbs target sights
tigertrout
12/06/23
04:03 PM
looking for some pics of a cased set of Gibbs target sights.
I am restoring a case and am missing a couple of components, I know they were
specific to the application and firearm but just looking for ideas to fill some spots.
Any help would be appreciated.
or maybe a book suggestion................
ok .....made the wrench today, no easy project, now just needs final and finish.
need to see what the other pieces are so I can make them........... any ideas......???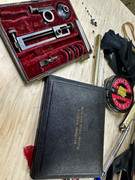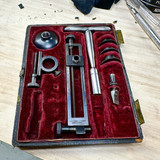 0
77
DoubleGun FAQ @ doublegunshop.com
Parker 16 ga chamber length
ligonierbill
11/13/23
07:11 PM
I have acquired a Parker Bros. "Trojan" 16. Really nice gun. They had a different standard for "entry level" in 1924. But I can't get a measurement on the chamber length. Visually I can see the transition, but I can't "catch" the corner of my scale to determine if the chamber is 65 or 70mm. I have plenty of RST 2 1/2" shells, so that's my default. But does anyone know when, if ever, Parker switched to a 2 3/4" chamber?
0
447